Second Set of Lompoc Crosswalks Undergoes Artistic Makeover
Subheading Integer vitae ipsum tortor. Curabitur a turpis ligula. Mauris efficitur auctor sem.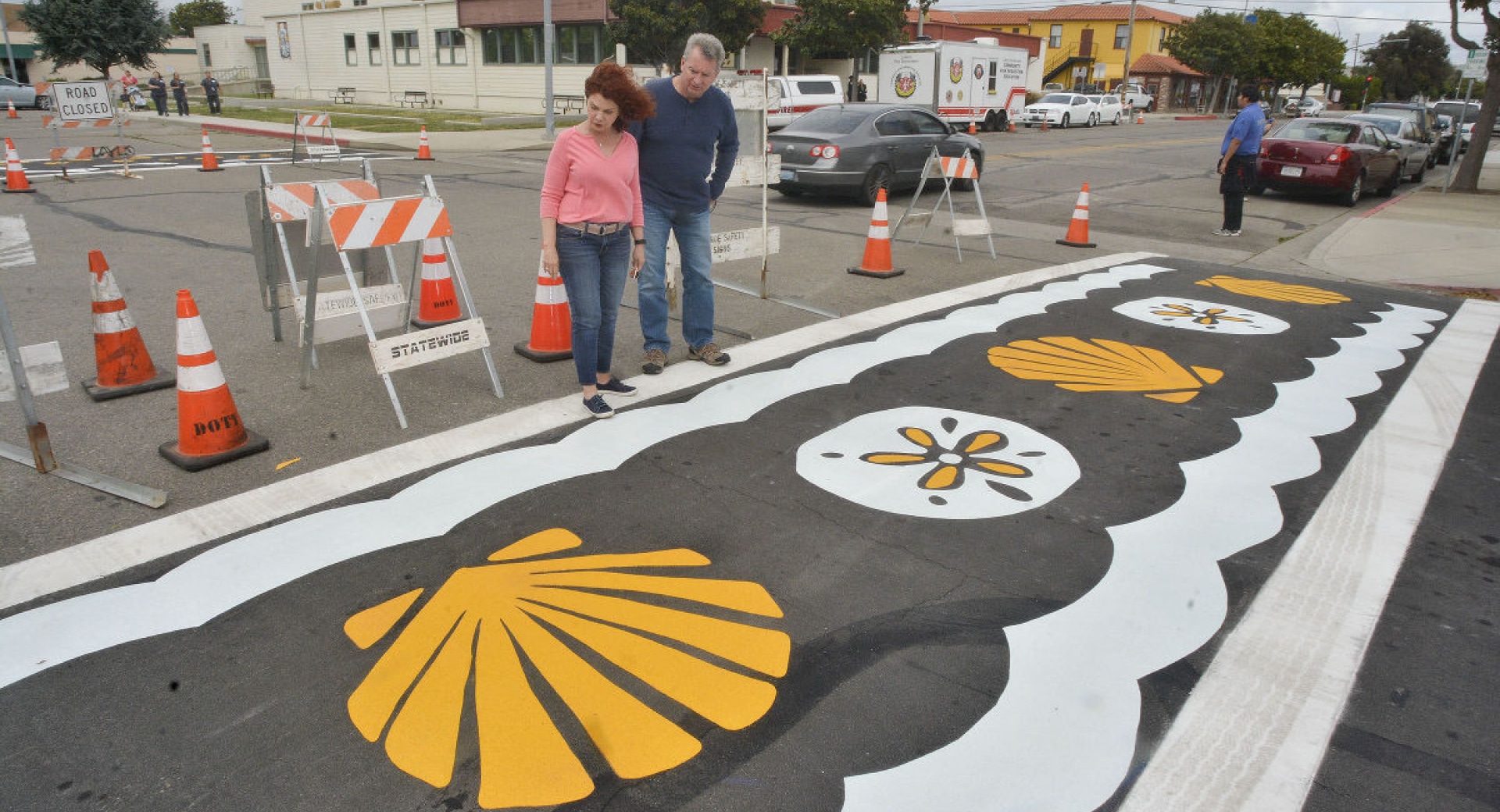 Two more Lompoc crosswalks were transformed Friday into works of art.
Phase II of the Healthy Lompoc Coalition's Creative Crossings program was completed Friday when artwork was added to the crosswalks at North I Street and West Walnut Avenue. The new artwork was revealed during a "Spring into Summer" celebration — a first-of-its-kind open house — at the nearby newly renovated Anderson Recreation Center.
"They look awesome," Emily Casarez, a program manager with the Healthy Lompoc Coalition, said of the crosswalks. "It's nice to finally have them in."
The featured artwork, which was selected in December, includes sets of footprints — human and critter — navigating through one of the crosswalks, while the other features a row of alternating sea shells and sand dollars. The designs were submitted by Michelle Schaefer and Linda Powers, respectively, and were chosen via public online vote.
Each artist was given a $500 honorarium for her winning submission.
The crosswalks bring Lompoc's total of art-themed crossings to six. Last August, each of the four legs of crosswalks at the intersection of South H Street and Cypress Avenue were painted as part of Phase I of the Creative Crossings program.
The newest art-filled crosswalks were designed a little differently than the Phase I crossings.
Those first crosswalks were decorated with paint and the use of stencils. Organizers noticed that the paint began absorbing dirt, however, causing the crosswalks to already look worn.
With that in mind, the organizers added the new artwork using a thermo-plastic material. The work was done by New Lows, a local T-shirt and screen printing business.
"It's very common for highway use — it's got a long life and low maintenance," Ashley Costa, president of the Healthy Lompoc Coalition, said of the new material. "I think it looks great so far. Once some cars start driving over it, we'll see how it holds up."
As for the first set of crosswalks, Casarez said plans are being made to repaint or touch them up during this summer's Olde Town Market series.
The crosswalks weren't the only featured attractions during Friday's "Spring into Summer" festivities.
Several local community organizations set up booths inside the Anderson Recreation Center's main lobby and city staff led visitors on tours of the new-look center during the two-hour event.
Among the updates to the Anderson Recreation Center, which was converted from a USO building in 1947, is new flooring in the main lobby; the removal of the conversation pit near the fireplace; a remodeled panorama room; a refinished gym floor; and equipment upgrades in the gym, like new retractable basketball hoops.
JoAnne Plummer, the city's recreation manager, said she was excited to show off the new-look facility.
"The rec center is an icon in this city, so to be able to give a little update and facelift is fabulous," she said.
The upgrades, she said, will make the building "more conducive for people renting it for things like weddings and quinceañeras."
Now that Phase II of the Creative Crossings is done, Costa said that some thought has been given to a Phase III. One of the target crosswalks is at West Ocean Avenue and O Street, in front of Ryon Park, but Costa said that potential renovations to Ryon Park have those plans on hold.
Another location being considered is Cypress Avenue, behind City Hall.
Wherever the next one is, if there is a next one, she said will be "dependent upon available funds, sponsorships and city approval."
The program, thus far, has been funded by a $30,000 grant from the Santa Barbara Foundation.